Best Fishing Spots
Below is a sample of what is known to be the very application of integrating the functionality of a smartphone map into an ebook! It makes the kindle edition more valuable than the print edition! I did this all the way back in 2014. It's the Angler's Guide to Kayak Fishing Southwest Florida: Sarasota Bay to Pine Island.
Note to reader on the eBook edition

This enhanced eBook includes clickable GPS coordinates that may work with your device's mapping application.
Functionality of the clickable GPS coordinates on each device will vary, but generally work well if you have a mapping application already installed.
Here are some screenshots to show you an example: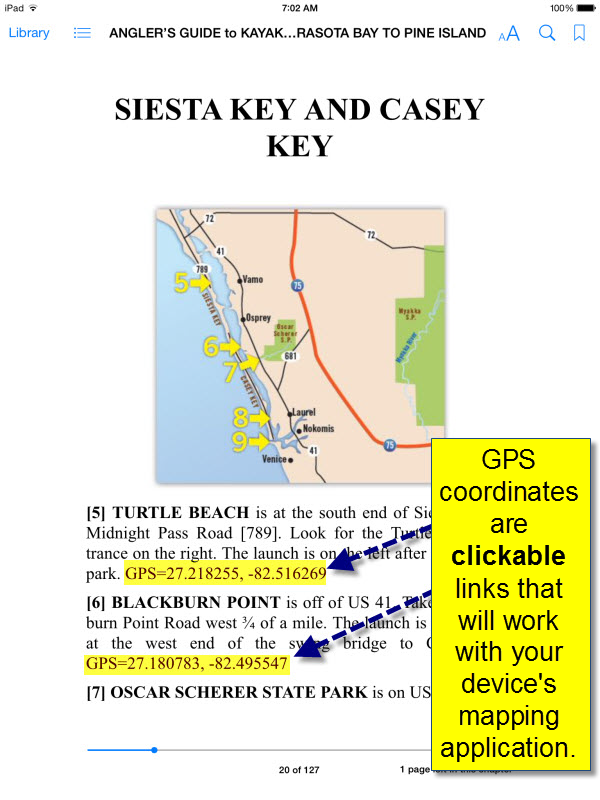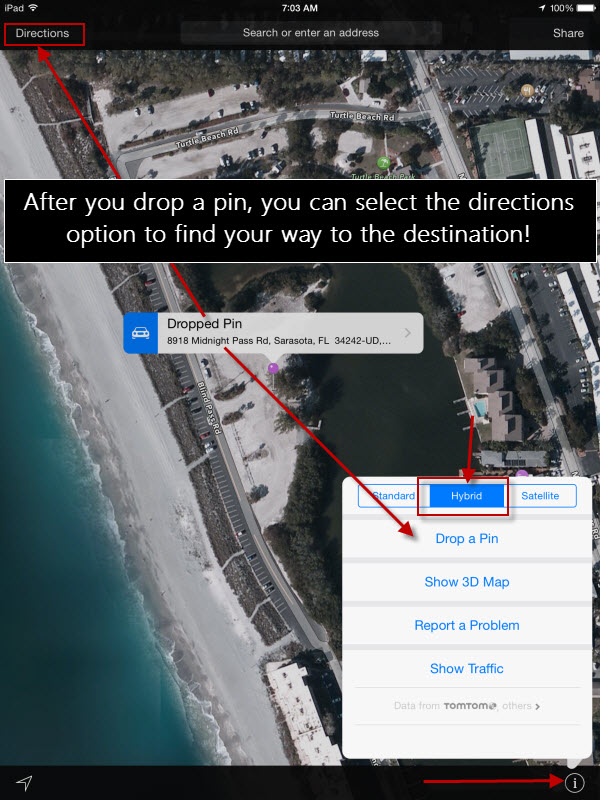 LONGBOAT KEY AND LIDO KEY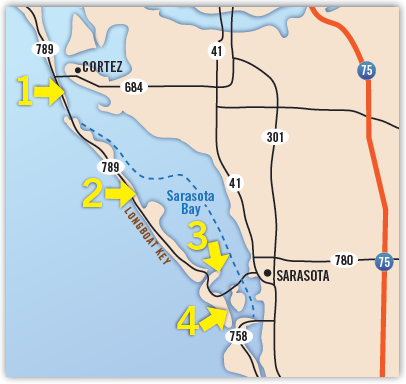 [1] LONGBOAT PASS separates Anna Maria Island and Longboat Key. Longboat Pass has parking at the north end of the bridge on both the east and west side of Gulf Drive South [789]. GPS=27.447755, -82.688591
[2] BUTTONWOOD HARBOR is on the bayside of Longboat Key about 5 miles north of New Pass on Gulf of Mexico Drive [789]. Look for an undeveloped area and a sand turnoff to the east. GPS=27.378521, -82.634130
[3] CITY ISLAND is at the east end of the Ken Thompson Parkway on the south side of New Pass. Head north from St Armands Circle and look for the Mote Marine Laboratory sign before the bridge over New Pass. Turn right and continue to the parking area. GPS=27.336777, -82.572617
[4] LIDO KEY: Head south from St Armands Circle on Ben Franklin Parkway to find both of these launches. Turn left on Taft Drive just before the road jogs right to launch at South Lido County Park. Ted Sperling Park is past this turn at the end of the island. GPS=27.309412, -82.568785
Geocaching books would be GREAT!
You can pinpoint locations